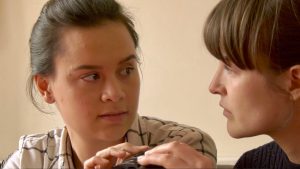 'Fractured', written by Lambert Nagle, is a short buddy movie with a thriller plot about ecological politics. On a relationship level, the story is about two unlikely candidates for friendship who eventually connect. Underlying this, the film is about fracking and the lengths to which energy companies and their spin-doctors will go to pursue their commercial goals. The young women's shared outrage at this is what brings them together.  If you would like to know more about 'Fractured' and keep up to date with its developments, we would be delighted if you'd follow our Fractured Facebook page.
As script editor, Virginia collaborated with Lambert Nagle to develop the screenplay and she will also direct the film. Virginia and Lambert Nagle are producing 'Fractured' through their production company, Rocky Bay Productions.
As well as being a short film in its own right, 'Fractured' doubles as a pilot for a feature film being developed by Lambert Nagle with Virginia. This film, in turn, is a precursor to an international eco-thriller TV series to be adapted from Lambert Nagle's book, Revolution Earth.