Virginia Pitts' recent artistic research focusses on collaborative methods of screenplay and film development. This artistic research (or practice-based research, using UK terminology), coupled with her own filmmaking experience, feeds into the workshops she offers.
The collaborative techniques Virginia researches and practices involve kinesthetics (movement), musicality and improvisation.
KINESTHETICS
In her article, 'Writing from the Body: Kinesthetics and Entrainment in Collaborative Screenwriting', published in the Journal of Media Practice, Virginia discusses the process of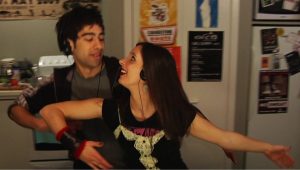 collaborating with a choreographer and dancers to develop her narrative dance film, Beat, and investigates some of the techniques employed by Joan Scheckel in her filmmaking labs.
Virginia also presented this work at the 5th Screenwriting Research Network (SRN) conference at Macquarie University in Sydney.
IMPROVISATION
In 2015, Virginia presented her comparative analysis of improvised and scripted performance for screen at the 8th SRN conference at the University of London.
This artistic research experiment resulted in two screen dramas (1 x 79-minute improvised drama and 1 x 48-minute scripted drama) about a young woman, Sophie (Kate Reader) who, adopted out at birth, arranges to meet her biological brother, Harry (Josh Hards) for the first time.
The improvised version of 'Meeting' was shot first, in story order, with two handheld cameras using on-board mics. The actors knew their characters, back stories and key plot points. They improvised all the dialogue as well as the ending of the film.  Following this, they were given the script (written previously) to learn. The scripted version of 'Meeting' was shot according to a schedule that prioritised logistics and was filmed (almost entirely) with a single camera, always on a tripod and with externally recorded sound.
Below are two extracts, one from the improvised version and one from the scripted version, showing a scene in which Sophie shows Harry a box of treasures relating to her adopted Dad, who died 10 years previously. Prior to this scene, they have met for the first time, found out about each other and then drunk a lot of alcohol. You'll see significant differences in terms of scene duration and structure, dialogue, characterisation, performance and camera style.
Extract from improvised version of 'Meeting'
Extract from scripted version of 'Meeting'
An article about this project is currently being written for a peer-reviewed online journal. It examines differences and similarities in terms of characterisation, performance, dialogue, film style and narrative structure in improvised and scripted screen drama.  The exposition will include multiple extracts from the films as well as documents that reveal aspects of the process, such as character notes written by both Virginia and the actors, plot points from which the improvised version derived, the script, a transcript of the improvised version into screenplay format, and an interview with the cast and crew.
MUSICALITY
In 2014, Virginia presented her artistic research into musicality and screenplay development at the 7th SRN conference at the Film University Babelsberg Konrad Wolf in Potsdam, Germany.
This paper discussed the early development process of a feature film, 'Lost and Found', which Virginia worked on in collaboration with composer Taren McCallan-Moore.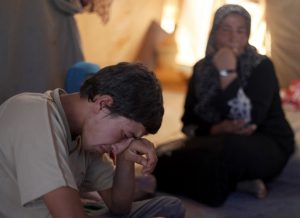 Working from preliminary character and story cues provided by Virginia, McCallan-Moore composed a series of musical pieces intended to cultivate the tonal and rhythmic structure of the evolving story. Following the completion of each musical composition, Virginia engaged in automatic writing exercises while listening to the music repeatedly.  From this she found new character traits, images, motifs and rhythms as well as ideas for mise-en-scène, story, and specific scenes that had not previously occurred to her.  Virginia's sense of the overarching structure of the film also shifted.
Grounded in a conception of film as a rhythmic medium which, like music, expresses themes non-discursively,  the presentation traced the collaborative creative process via initial notes given to the composer, musical compositions that resulted from these as well as extracts from the automatism and treatment written in response to the music. The intention was to discern the degree to which activating a musical frame of perception during the creation process may shape a finished screenplay.
____________________________________________________________
SRN WORKING GROUP ON COLLABORATIVE SCREENWRITING
The Screenwriting Research Network (SRN), established in 2006, is an international network of scholars, practice-based researchers and reflective practitioners interested in research on screenwriting. The aim is to rethink the screenplay in relation to its histories, theories, values and creative practices.
The Working Group on Collaborative Screenwriting was set up  by Virginia in 2016 to connect SRN members interested in collaborative screenwriting practice. Such practice may involve teams of writers, transmedia writing, or interdisciplinary writing and script development methods involving, for example, actors, musicians, artists, crew members or dancers. The group consists of screenwriting scholars, filmmakers, screenwriting practitioners and scholar-practitioners. You can read about the group members here.
____________________________________________________________
INTERCULTURAL COLLABORATION IN FILM
Virginia's interest in collaborative methods of screenwriting and film development stemmed from both her own practice and her doctoral research into intercultural collaboration in film.
Publications relating to the latter include:
'Contestations of Intercultural Collaboration: the Case of Whale Rider', Chapter 3, Impure Cinema: Intermedial and Intercultural Approaches to Film, Lucia Nagib & Anne Jerslev. New York/London: I.B. Taurus, pp.43-64. 978-1780765112. If you would like to read it, please click here. 
'Intercultural Short Filmmaking in Aotearoa New Zealand', Metro: Media and Education Magazine, Australia No. 148, pp.140-146. ISSN 0312 2654. If you would like to read it, please click here.
____________________________________________________________